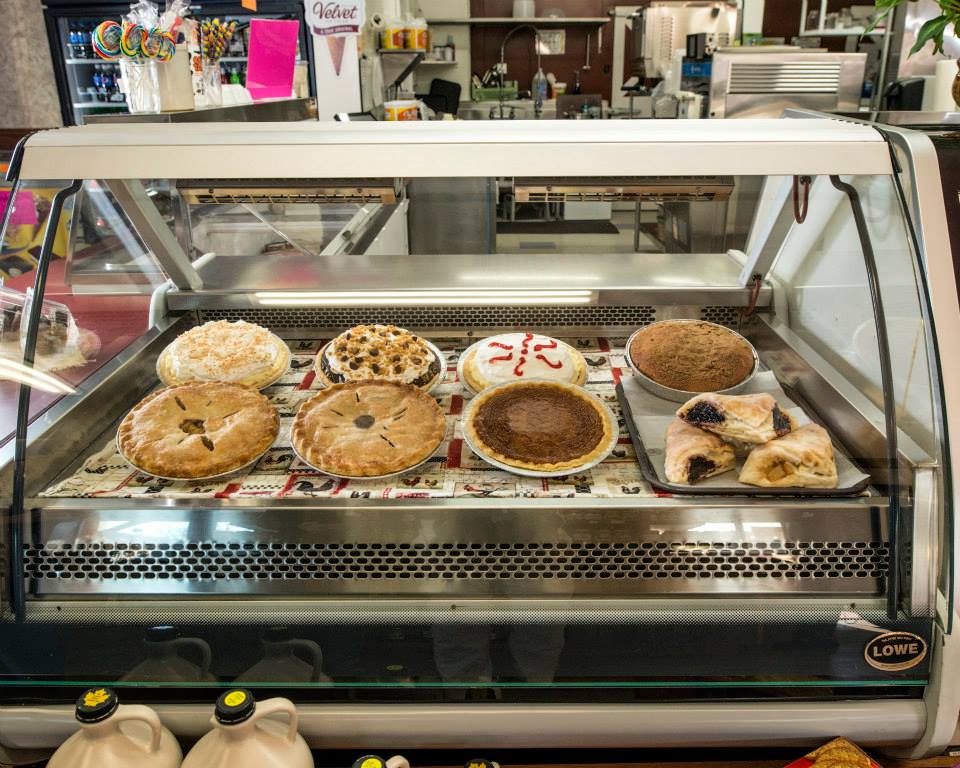 SEASONAL DELIGHTS AT MOHICAN COUNTRY MARKET: DISCOVER FRESH PRODUCE THROUGHOUT THE YEAR
We ensure our customers experience a warm and comfortable atmosphere, while shopping for fresh, quality, wholesome foods in a friendly, clean facility. We strive to offer foods and goods produced by local people whenever possible.
FRESHNESS EACH SEASON
We are constantly adding locally grown and in-season produce, such as pumpkins, watermelon, potatoes, cucumber, cantaloupe, apples, sweet corn and gorgeous fall mums.  We invite you to stop in at each season to find the harvest of fresh foods available.  
PRODUCE IN OUR PRODUCTS
The local produce we have for sale is not only stocked on our shelves for purchase.  You will also see and taste wonderfully prepared vegetables and fruits in our many cafe and bakery items.  Your favorite salads, sandwich toppings, and wraps all include the goodness of our local farmers and growers.  Dive into a delicious apple pie or one of our fried pies and you'll enjoy the tasteful freshness of local fruits and berries as our bakers choose the best for their recipes.  
OUR EMPLOYEES ARE HERE TO HELP
If you're strolling through the store and need assistance on which watermelon to choose or which bag of apples to take home, our employees will be happy to help you choose just the right produce.  They stand ready to assist in the ripeness, quality, and options that we have to offer at Mohican Country Market.  They will also point out our canning and preservation section for those needs as well.  
TASTE AND SEE
Our local goodness is full of varieties to choose from at Mohican Country Market.  Taste this local recipe and see if your family will come back for more!
 Grammy's Perfect Apple Pie
Filling
6 cups of thinly sliced peeled apples
¾ cup of sugar
2 tbsp flour
¾ tsp cinnamon
¼ tsp salt
⅛ tsp nutmeg
1 tbsp lemon juice
Heat oven to 425℉. 
Mix all ingredients in a large bowl.  
Place in a pie shell, dot with butter.
Top with another pie shell or crumb topping for a Dutch apple pie.
Bake for 40-45 minutes or until the apples are tender and the crust is golden brown.  
Crumb topping for dutch apple
½ cup sugar
¾ cup all purpose flour
6 tbsp softened butter
Mix sugar with the flour, cut in butter until crumbly.  Sprinkle over apples.
Bake at 400℉ for 35-40 minutes.
If pie browns too quickly, cover edges with foil.
Cool. 
Serves 8
We invite you to visit Mohican Country Market.  Whether you are visiting our area or a local customer, we appreciate you and hope you will find a warm, clean, and friendly environment to shop and enjoy the options we have to offer.  From fresh produce to bulk food and meats, to delicious bakery items and lunch time specials, you'll find something good to fill your family.